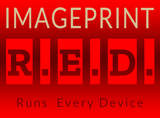 IMAGEPRINT R.E.D. SETUP GUIDE
Welcome! If IMAGEPRINT R.E.D. is already installed, just complete step 1 and you're done. If you're here for the trial version, skip the activation and go straight to step 2.
ACTIVATE
1
Skip this step for trial version
---
MONEY BACK GUARANTEE
Your purchase of ImagePrint is covered by an unconditional 30-day money back guarantee. If you're not satisfied, we'll refund the purchase price less shipping and handling. Before shipping your return, please request an RMA by Email.
UPGRADES
BLACK can be purchased as an upgrade from IMAGEPRINT V9 or V10. Get the latest release, and another year of support by upgrading today. Call or email for a quote and please include your dongle number for faster service.
INTERNATIONAL ORDERS
Shipments outside the United States may be subject to import fees. These additional charges will be collected by Federal Express at the time of delivery. Please contact your local customs office for more information.
---
2021 Colorproof Software, Inc. All rights reserved. Colorbyte is a registered trademark of Colorproof Software, Inc.