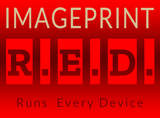 IMAGEPRINT R.E.D. requires a software security key known as a dongle. It fits into any USB port on your computer and has to be plugged in whenever you want to make prints with R.E.D. You can download the software now and complete the installation when your dongle arrives.
Support
IMAGEPRINT R.E.D. includes 90 days of email support. We're available Monday - Friday, 9 AM to 6 PM ET.
We do our best to reply to your emails within a few hours if they're received during business hours. If you need help after hours, check out our Help Center below. You'll find most problems are covered in the Troubleshooting Guide and the videos will walk you through the basic features and tools.
If you no longer qualify for free support, we offer several support plans. Learn More >
Contact Technical Support
2023 Colorproof Software, Inc. All rights reserved. Colorbyte is a registered trademark of Colorproof Software, Inc.